Trying to choose the right trailer to haul your freight can be a daunting task. Both a Lowboy and a RGN trailer are excellent for carrying tall and long freight, so, which will work best for your shipment?
The Differences Between A Lowboy & A RGN Trailer:
Lowboy trailers:
Lowboy trailers were invented in the 1920s and are unpowered trailers commonly used in hauling and transporting taller goods and items. The items typically hauled by lowboy trailers are taller than the legal height of items that can be carried by flatbeds, and are usually industrial equipment like bulldozers.
Here are the maximum dimensions for a lowboy trailer:
• Maximum freight weight: 40,000 pounds (with two axles) and up to 80,000 pounds with extra axles
• Maximum well length: 24 ft. to 29.6 ft.
• Maximum well height: 18 in. to 24 in.
• Maximum legal width: 8.5 ft.
• Maximum legal freight height: 11.5 ft. to 12 ft.
• Maximum legal overall load height: 14 ft.
RGN trailers:
RGN, or removable gooseneck trailers were invented in 1958 and are great for carrying long and tall freight. The front detaches, allowing the RGN trailer to be lowered to the ground to create a ramp. For this reason, loads are typically driven onto the RGN trailer, like trucks and other motorized equipment. RGN trailers can go up to 20+ axles, so they can carry freight up to 150,000 pounds.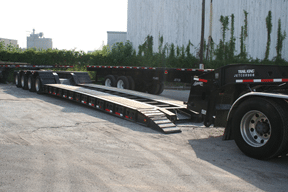 Maximum Dimensions for a Removable Gooseneck Trailer:
• Maximum freight weight: 42,000 pounds
• Maximum well length: 29 ft. (main deck)
• Maximum well width: 8.5 ft.
• Maximum legal freight height: 11.6 ft.
As you can see, lowboy and RGN trailers serve a similar purpose. However, depending on your needs, one may serve you better than the other. If it would be easier to drive your shipment onto your trailer, than a RGN trailer would be a better fit. If you're looking for something a little less expensive, a lowboy would be better, since a RGN trailer can run you a bit more since they're specialized.
Where to Find Semi Trailer Rentals
Though Freight Rate Central is centrally located in Idaho, we service all across the United States. We aim to provide the most efficient and economical shipping for all of our clients, and work with a number of servicers to ensure you get only the best rates no matter your shipping needs. We take care of the details both big and small, so you can rest easy with your shipments in our hands. Contact us today at 1-800-870-6294 to learn more about our services, or visit us online to request a free quote.